In deze review hebben we het over de Lord of the Spins Casino Online. Door de middeleeuwse entourage onderscheidt dit online spel zich met succes van de rest. Qua originaliteit is in elk geval reeds geslaagd.
Je zult zien dat thema dan wel middeleeuws mag zijn, maar dat hun beveiliging is afgestemd op jaar 2019!
Lord of the Spins Casino Online
Lord of the Spins Casino is eigendom van, en wordt geëxploiteerd door Topia Solutions N.V. en haar filiaal Whitesmoke Services Limited. Het is actief onder de Master licentie n° 365/JAZ, die werd toegekend door de Curaçao overheid. Dit is al een eerste garantie dat we met een degelijk, serieus en vooral ook eerlijk Casino te maken hebben. Om zo'n licentie te verkrijgen, dient een Online Casino namelijk aan te tonen dat zij voldoen aan bepaalde regels inzake veiligheid, maar ook wet betreft een eerlijk spelverloop. Dit is bij Lord of the Spins Casino perfect in orde aangezien er van een zeer krachtige "random number generator" gebruik wordt gemaakt om ervoor te zorgen dat enkel en alleen het toeval (iets wat door de spelers het geluk wordt genoemd) bepaalt of je wint of verliest. Een onafhankelijke instantie, Gaming Laboratories International, test deze RNG ook zodat er niet de minste twijfel kan bestaan over de Lord of the Spins Casino Online eerlijke werking.
Software en Slots de ontwikkelaars
Lord of the Spins Casino Online biedt tussen de vierhonderd en vijfhonderd verschillende slotautomaten aan. Hiervoor doen zij een beroep op de meest gereputeerde softwareontwikkelaars uit de business. Namen als Betsoft, Microgaming en NextGen zullen bij veel mensen wel een belletje doen rinkelen, want er zijn weinig online Casinos waar je hun spellen niet tegenkomt. Maar bij Lord of the Spins heb je maar liefst 25 verschillende ontwikkelaars die hun spellen aanbieden. Dit heeft als groot voordeel dat je spellen kunt spelen die je bij geen ander zult vinden en bovendien biedt Lord of the Spins je de mogelijkheid om de spellen op je scherm te ordenen in lijsten, gerangschikt per aanbieder.
Lord of the Spins Casino videoslots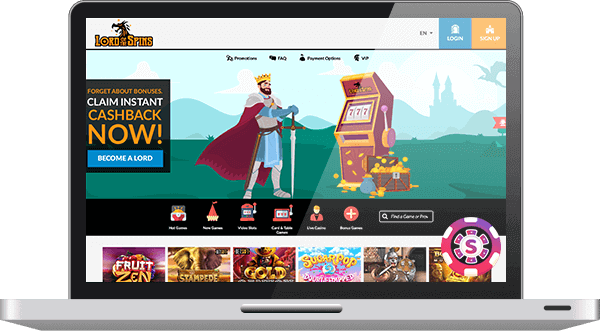 Zoals reeds vermeld, heb je bij Lord of the Spins de keuze uit honderden verschillende Slots. Elke slot heeft weer zijn eigen unieke kenmerken. Zo zijn er slots waarbij je tijdens het spel extra kunt winnen met Gratis Spins, of worden je winsten in een bepaalde ronde vermenigvuldigd met 2, 3, of nog meer. Er zijn slots waarin de zogeheten Wild Card zich over de volledige slot uitbreidt en je op die manier verzekerd bent van mooie winsten. Bij ieder spel vind je ook de speluitleg en mocht dat niet voldoende zijn dan kun je op elk moment de hulp inroepen van de Online Customer Support, bij ons beter bekend als de "klantendienst". Bij Lord of the Spins Casino is die 24/7 bereikbaar, Maar daarover straks meer.
Kaart- en Tafelspellen
Naast hierboven besproken videoslots heeft aanbod de Online Casino Lord of the Spins uiteraard ook aan de liefhebbers van Online Roulette, Blackjack, en Poker gedacht. Er zijn niet minder dan zes roulette varianten waaruit je kan kiezen. European Roulette, Zero Spin roulette, en Roulette Pro zijn er maar enkele. Ook hier geldt weer dat je altijd met je vragen over welk spel dan ook bij de klantendienst terecht kunt en dit op elk moment van de dag of nacht. De amateurs van Online Poker en Blackjack komen ook volop aan hun trekken want ook hier vind je weer verschillende de game varianten. Magic Poker, Casino Holdem Poker of Poker Three? Bij Lord of the Spins Casino vind je ze allemaal!
Bonussen en VIP- programma
Een goede start is het begin van later succes. Dit hebben ze bij Lord of the Spins ook begrepen en daardoor krijg je als super genereus welkomstcadeau een Stortingsbonus van 200% die tot wel €1.000 kan oplopen. Ja, je leest goed! Wanneer je bijvoorbeeld €50 stort krijg je het dubbele, in dit geval €100, er zomaar bij cadeau! Wanneer je dus €500 stort loopt deze bonus op tot €1.000!
Zoals bij alle bonussen wordt ook hier aangeraden om de voorwaarden te lezen waaraan je moet voldoen om de bonus om te kunnen zetten in opneembaar geld. Bij sommige casino's moet je geld zoveel keer inzetten dat eigenlijk bijna onmogelijk is om het ooit op te kunnen nemen. Er zijn casino's die eisen dat je 50,60, 70 of zelfs meer keer je geld moet inzetten. Gelukkig is dit bij Lord of the Spins Casino niet het geval en houden zij zich aan de "standaardwaarde" die bijna overal geldt, namelijk een WR (of doorspeelvereiste) van 30. Dit lijkt misschien ook nog veel, maar ik kan je verzekeren dat het verre van onmogelijk is. Bij de videoslots volstaat het toch om die ene spin te draaien, die Free Spins, Moving Wilds of ander waardoor je inzet tot wel honderden keren kan worden teruggewonnen. En omdat bij Lord of the Spins alle spellen door een onafhankelijke keuringsdienst zijn getest èn goed bevonden, is het helemaal niet zo denkbeeldig als het misschien op het eerste gezicht lijkt. Maar je hoeft ons niet te geloven: elk spel kun je ook in een gratis versie uittesten, dus overtuig jezelf!
En als je nog steeds twijfelt, dan word je misschien wel overtuigd door de Gratis Bonus zonder storting! Ja, inderdaad, bij Lord of the Spins krijg je bij inschrijving een bonus op je account zonder dat je ook maar één cent hoeft te storten. Je kunt er alle games mee spelen en met wat geluk ook nog een leuk bedrag mee winnen. Bekijk ook hiervan de voorwaarden op de site of neem contact op met de klantendienst.
Voor de trouwe spelers is er door Lord of the Spins Casino een VIP-programma opgezet dat niet zal teleurstellen! Het is even eenvoudig als geniaal: Elke speler begint op de laagste rang, die van Hobbit. Afhankelijk van je inzetten kun je opklimmen tot de hoogste rang, die van Lord. Hoe hoger je rang is, hoe groter het percentage dat je krijgt als bonuspunten. Voor elke 10 euro die je inzet, krijg je standaard 1 punt. Hoe hoger je op de ladder bent geklommen, hoe leuker het voor je wordt. Want er worden speciale aanbiedingen gedaan die op jouw zijn toegespitst. Een toegewijde VIP-manager aan je zijde zorgt hiervoor. Ook zijn er voor jou speciale events waar je uiteraard mooi in de prijzen kunt vallen. Alles staat perfect op de site uitgelegd, maar indien nodig staat er een heel team klaar om al je vragen over dit onderwerp te beantwoorden.
Storten en Opnemen
Ik moet eerlijk toegeven dat ik nog géén enkele site van een Online Casino heb ontdekt waarbij je maar liefst meer dan 20(!) verschillende mogelijkheden hebt om geld te storten. Van de klassiekers als Visa en Maestro tot Bitcoin, Skrill, en Paysafecard. Nog nooit zagen wij zo'n keuze aan stortingsmogelijkheden als bij Lord of the Spins Casino Online. Omgekeerd, indien je van je casinoaccount de winsten naar jouw bankrekening wilt overmaken, dan gaat dit ook snel en probleemloos. Na verificatie van bankrekeningnummer heb je binnen de kortste keren geld op je rekening.
Klantendienst
De klantendienst van dit online casino is meer dan indrukwekkend: 24/7 bereikbaar en dit in verschillende talen. De bereikbaarheid is één ding, maar minstens even belangrijk is de competentie en vriendelijkheid van de klantendienst. En ook hier alleen maar lof: alle medewerkers van de dienst zijn getraind om snel het antwoord op jouw vraag te geven en je zult nooit de indruk hebben dat je vraag vervelend is. Ze zijn supervriendelijk en behulpzaam, of het nou gaat over de inhoud van games of over vragen over bonussen of stortingen. Op elke vraag krijg je snel een antwoord en de glimlach is gratis!
Live Casino
De afdeling Live dealers bij Lord of the Spins telde op het moment van ons bezoek aan de site maar liefst 23 verschillende mogelijkheden. Bijna alles wordt er aangeboden: van VIP Blackjack, Casino Holdem Poker tot Roulette en Baccarat. Geen enkele liefhebber laten ze in de kou staan. Integendeel zelfs want wanneer je de knappe dames aan de speeltafels ziet staan, voel je je sowieso al een winnaar!
Mobile Casino en Beveiliging
Omdat het anno 2019 voor een online casino onmogelijk is om de mobiele spelers niet te bedienen, komen ook deze aan hun trekken bij Lord of the Spins. De games zijn geschikt om op Android en andere systemen te worden gespeeld, dus onderweg ergens naar toe, weerhoudt niets je ervan om nog een leuk potje te spelen en ook nog een leuk bedrag te winnen als je geluk hebt.
Het volledige Online Casino is middels een 128-bit versleuteling beveiligd, dus al je gegevens zijn even veilig als bij je bank. Een firewall die beschermd tegen eventuele indringers, antivirussoftware die up-to-date is, high-end encryptie, …. aan alles is hier gedacht. De enige die met jouw geld aan de haal kan, ben jezelf!
Conclusie
Online Casino Lord of the Spins is een bezoek méér dan waard. Het heeft alles in huis wat een speler anno 2019 zoekt: Vlotte gameplay, mooie en gebruiksvriendelijke interface, top-of-the-bill klantendienst die 24/7 bereikbaar is.
De eerste stortingsbonus die je wel €1.000 kan opleveren en een VIP Programma dat je écht beloond, ook dat zijn zaken waarmee je als speler op de markt van de online casino's serieus mee kunt scoren!
Dit komt natuurlijk door de vele concurrentie, maar dit komt ons, de onlinespelers alleen maar ten goede!
Veel Geluk!